Magic Kaito
Volume Two - Complete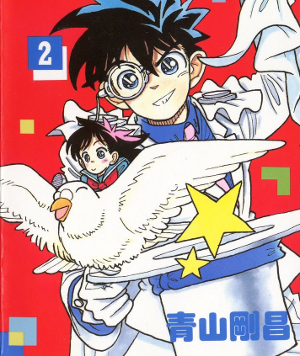 Download Link:
http://www.sendspace.com/file/8vgl1y
Here we are, the entirety of MK's second volume available as a single download, with several tweaks but overall a general tidying-up thereof. This took me way longer than it should have, mostly due to life being life. As I said in the thread for Ch. 13's re-release, the changes aren't drastic; I'll go into that in a bit. As a side note, the links for the previous chapters have been updated as well, and while those downloads will still each have credits on the title pages, the volume download will only have them in the beginning.
As far as changes in the translations, the biggest one is Aoko's self-referral. I've switched it back to third-person, barring the occasional time when I can't dance around the need for a self-reference and there's really just no way around using first-person (mostly at times when it's an implied "I" as the sentence subject, or in cases of first-person-plural -- also usually implied -- when it would just sound too awkward otherwise). A good example is when Aoko comes home in Ch. 9: she uses the phrase "tadaima," which I've kept as "I'm home" because having her use her name would be giving Nakamori a clue he's not supposed to get.
Otherwise, it's mostly small things. Sometimes things involving side effects, like changing the card gun's "Poof" to a "Pon," because it was frankly starting to bother me how ridiculous that was. Or the one in Ch. 10 that I cleaned the panel for, and then completely forgot to put the translated one back in. It's in place like it should be now. Everything else should mostly be formatting stuff.
Enjoy!
EDIT: Oh, and I forgot to mention it, but the previous versions I did of these chapters are still available through my Twitter, if anyone wants/prefers those.