*waves* Hiya. Though a long-time DCMK fan, I don't usually use forums, but I wandered in here and saw Chibby's awesome Volume 2 rescanlations. Since over the summer Waywren Truesong and I started collaborating on Volume 3 for love of Saguru Hakuba, I wanted to share rather than leave it hidden on my hard drive.
Volume 3, Chapter 1: Star War
Wherein scheming is done, Aoko host a Christmas party, Nakamori is cheered up, and Kid pwns another impostor.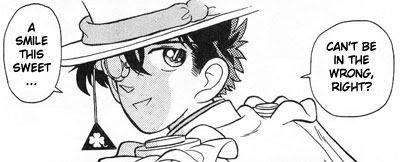 Download Link:
Megaupload:
http://www.megaupload.com/?d=7UROS1AZ
Mediafire:
http://www.mediafire.com/?522ii3k9jtcd18x
We're still working on the other files for Volume three, but expect more soon. Please enjoy!
Edited to add Mediafire link.