Magic Kaito
Vol.02 Chapter 5: The Boy Who Bet on the Ball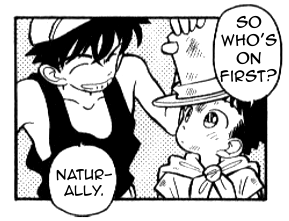 Everyone else seems to have these promo pic things....
Download Link:
http://www.sendspace.com/file/ifporh
*EDIT 11/21/11: Tidied up / Re-tweaked translation uploaded
Seems I'm late to the Kid party. Sorry for the wait on this -- there were a number of reasons, but it was mostly due to me knowing between jack and diddly about baseball, and having trouble with my attempts at fact-checking information on the specific game that occurs in this chapter.
Also, I believe congratulations are in order for the Nagashima family, for utterly destroying any chance of having a comprehensible timeline between MK and DC.